What you need to know to effectively scan the government market
This article reviews available ways and tools you can use to research the GSA market and eventually end up with a profitable government contract. With such tools as GSA Schedule eLibrary, CALC, FPDS you can gather a plethora of useful data. Ideally, you should always do your home work and research competition, demand and prices before you jump into these dark waters. Read along to learn how.
Check if you Qualify to be a GSA Contractor
Why do you need to research the government market?
Researching the GSA contract market is a job that yields a number of benefits, specifically:
Find a prosperous niche
When you perform a detailed GSA contract search (see methods below) you can reveal prospective opportunities to do business with the government. Finding a good – non-overcrowded and not empty – niche with a lot of potential is not a no brainer. But if successful, this will surely cover all your expenses with plenty to spare.
Understand competition
Learn what others sell to match or exceed their offers. Also, evaluating the intensity of competition tells a lot. Note that high competition is not always bad. In fact, a recent study (https://doi.org/10.1093/jopart/muz027) reveals that competitively sourced contracts are more likely to suffer from performance problems. Which means if you can provide better performance than everybody else, you can win a GSA contract even in highly competitive fields.
Learn other's rates
A comprehensive contract market research allows you to estimate the price ceiling and average rates across contractors. This way you can compare the values with what your company offers and decide whether you can successfully compete in a certain niche, or you better find another contract to pursue. There are GSA services that help researching average labor rates as well. Hence, you can see what are maximum and average prices that are considered fair and reasonable today.
Overall, a GSA contract market research is a pledge of successful and long term cooperation with the government. Indeed, according to official statistics, contractors that didn't bother to preliminarily research the market and adapt their strategy accordingly failed to even meet the minimum requirement of $25,000/y in sales!
How to perform research of the GSA contract market
This guide reviews a number of free tools you can use to research GSA competitors, prices, rates, and obtain other useful information to build your individual "We sell to the Government" strategy.
GSA Schedule eLibrary
GSA eLibrary is probably your primary source for intelligence data for further competition analysis. Here how to use it.
1. Open GSA eLibrary.
2. In the search bar type the name of a contractor or the contract number if you know it.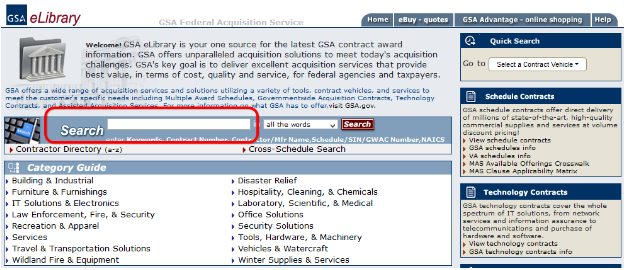 This will display all the matching contracts: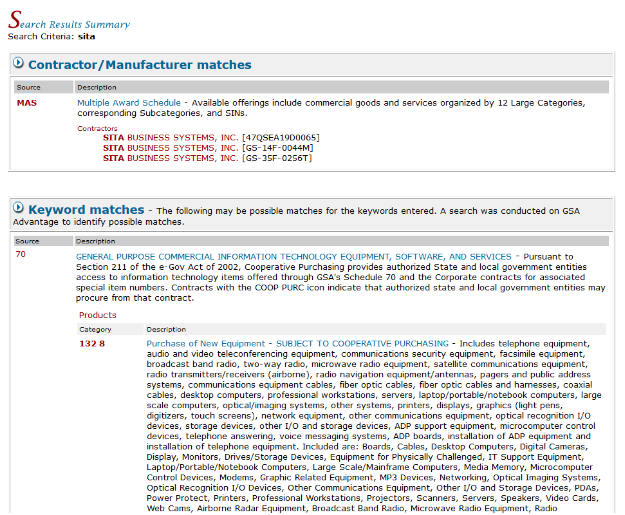 3. Click the contractor's name in the list to display details of each particular contract it holds.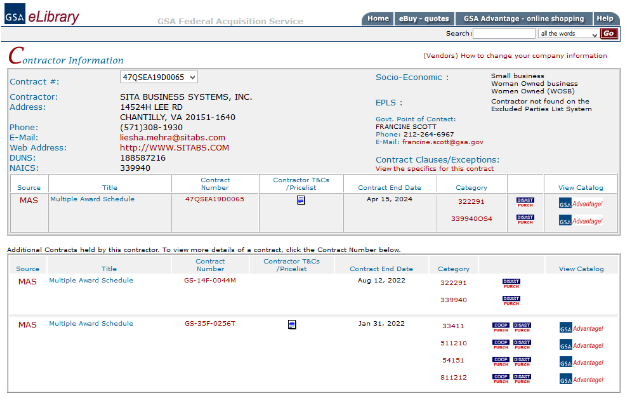 4. Now, that's where the gold is. First of all, if the contractor works under some socio-economic conditions, they are displayed in the upper right corner. Then, you can review each contract individually and even open the GSA Advantage! catalog to see exact items. If the pricelist is available, you can find it in the corresponding column of the table.
Alternatively, you can explore some particular SIN and/or category to see all the contractors in that schedule.
1. Click the "View schedule contracts" link in the left menu: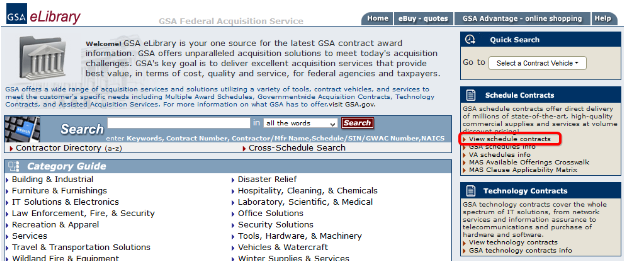 2. Select the Schedule you want to browse.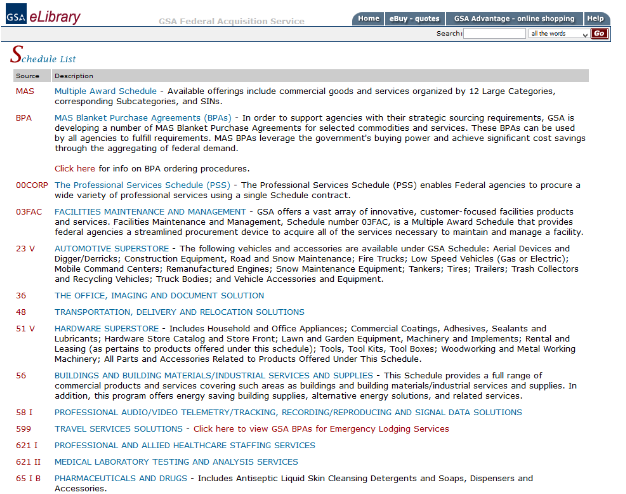 Then, select the category: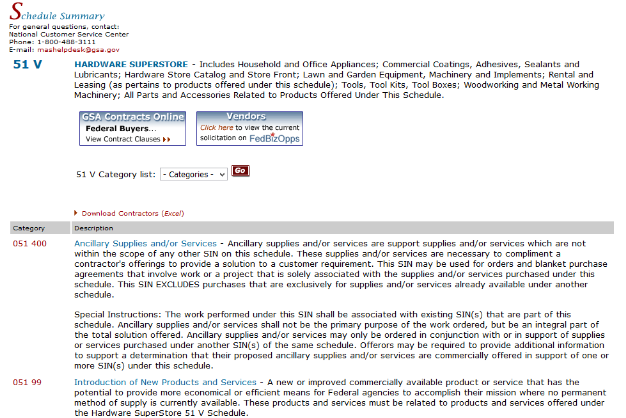 3. Click the SIN category number to display the complete list of contractors holding this schedule.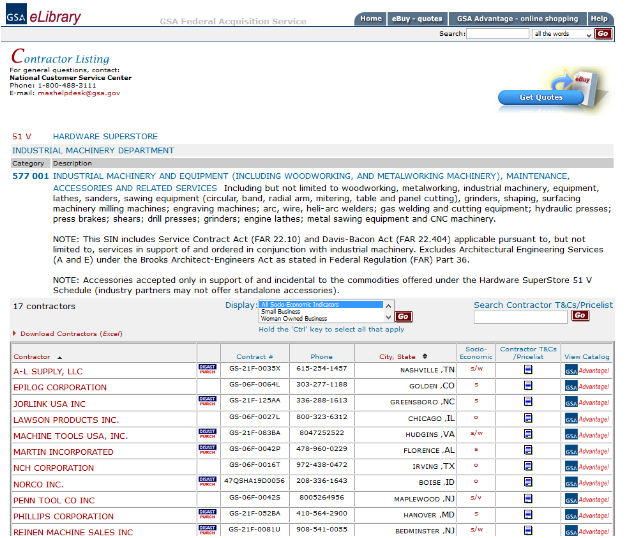 You may want to invest some time into eLibrary to learn who your competitors are, what SINs and categories they occupy and what are their prices.
GSA Advantage!
You can use GSA Advantage to further research GSA contract holders.
First of all, there is a powerful search tool that allows you to find brands, products, services, and specific categories. Simply start typing in the search box, then select one of suggestions and see the search results.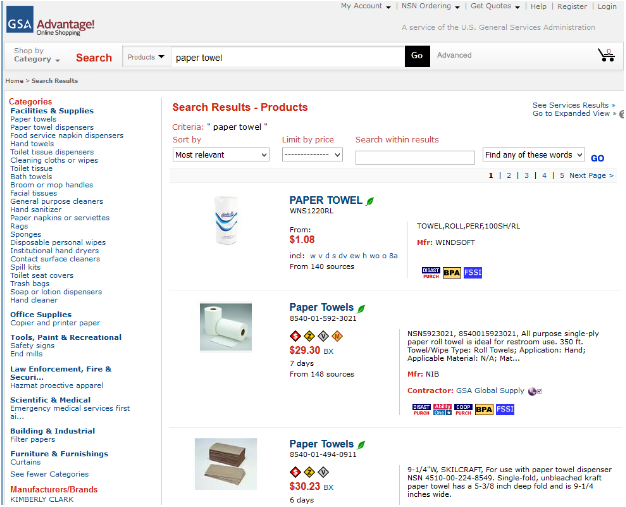 To refine the search even more, there is an advanced search option. Use the "Advanced" button next to the "Go" button of the search box to activate it. There, you can filter the search to specific set-asides, compliances, and of course, price range and keywords.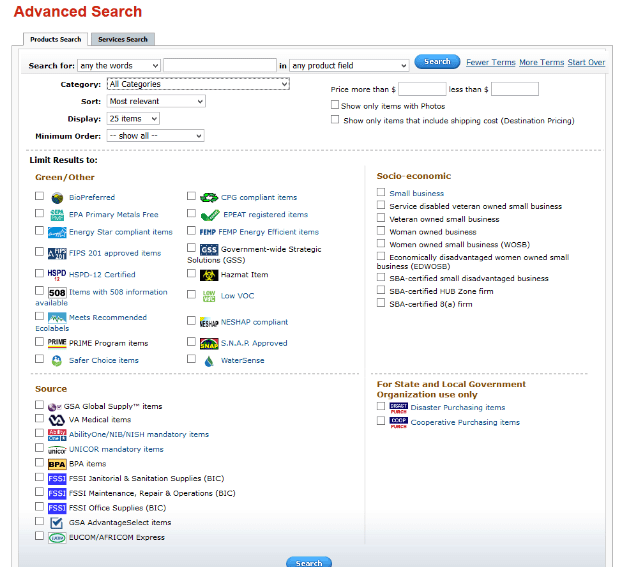 Here is how you can use this information:
Find what competitors in your niche sell to the government
Estimate min, max and average prices per item
Compare your Labour Categories with other contractors
See if there are other businesses with a specific socio-economic status (WOSB, VA etc)
Compare the offer with the demand (see below)
Discover new opportunities in poorly covered niches.
Using FPDS to research contract market conditions
The Federal Procurement Data System (FPDS) allows you to search for government contracts above $25000. The way to research competition via FPDS is similar to GSA Advantage: enter the search query, explore results, find opportunities.
The Federal Procurement Data System (FPDS) allows you to search for government contracts above $25000. The way to research competition via FPDS is similar to GSA Advantage: enter the search query, explore results, find opportunities.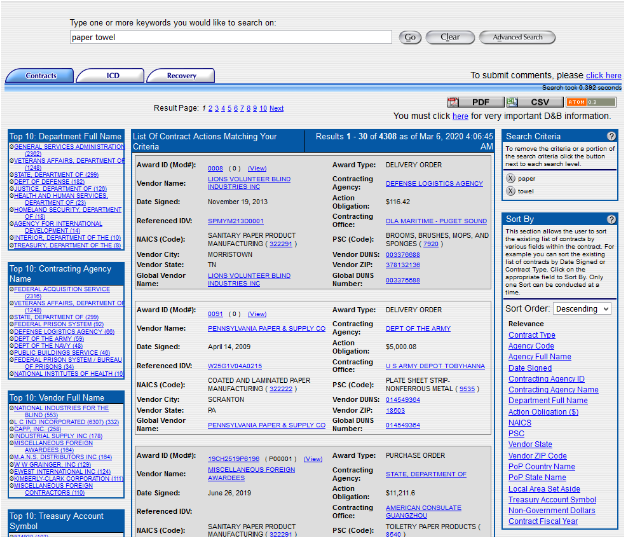 Don't forget about filters and sorting to quickly refine the search results to what interests you most.
IMPORTANT: FPDS is migrating to the new consolidated platform: SAM.gov. You can use the search at SAM.gov instead. To look for existing contracts, select "Contract data" in the search box.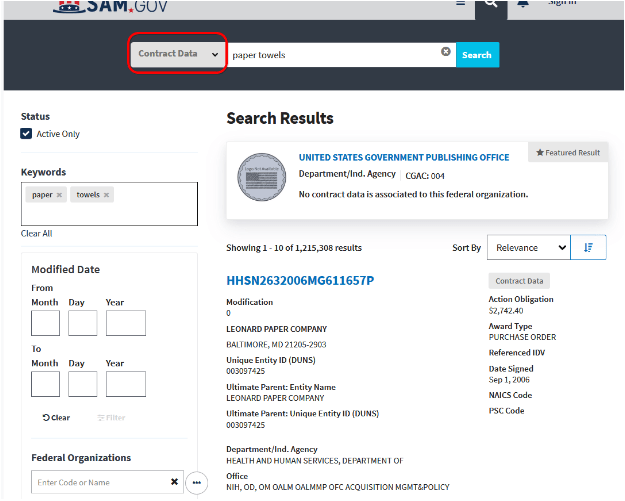 Note that you can also search for contract opportunities, grants, company name etc.
GSA Schedule Sales Query (SSQ) tool
Currently, this resource is not updated and it doesn't support the new consolidated SINs, but still provides a lot of useful information for fiscal years before 2019. GSA Schedule Sales Query allows you to generate a number of "one-click" reports for specified fiscal years, schedules or SINs. Click the "Create report" link and select the type of a report.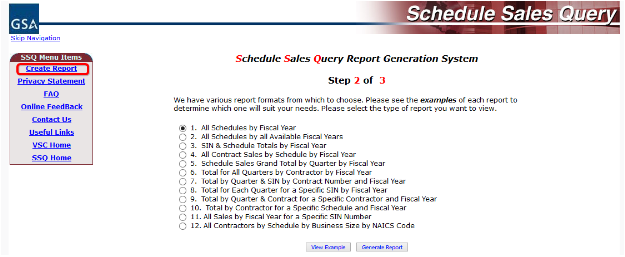 What's great about SSQ is that it offers not only contract data, but sales data too. However, you should keep in mind that the sales are reported by vendors, not by federal departments, so the information may not be 100% unbiased.
The reports generated look as follows: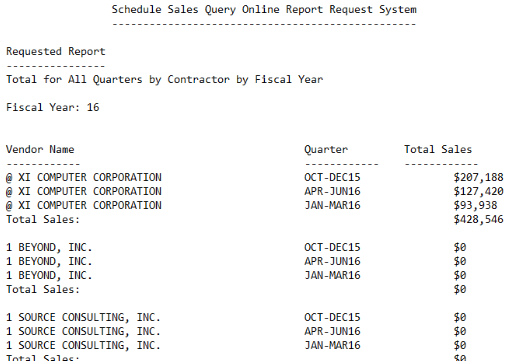 CALC – Contract-Awarded Labour Categorytool
Designed for use by contracting officers, CALC is a great tool for vendors too. The instrument searches for hourly rates of various specialists and labour categories across a number of GSA and VA agencies.
CALC is great for market research if you provide services, not products. With it, you can estimate average hourly rates and price ranges in the specified labour category. Typically, using CALC is much, much faster than digging the same info from GSA Advantage. Plus, it effectively visualizes the data giving you a clear picture almost instantly, so you can compare your rates with those of other GSA competitors.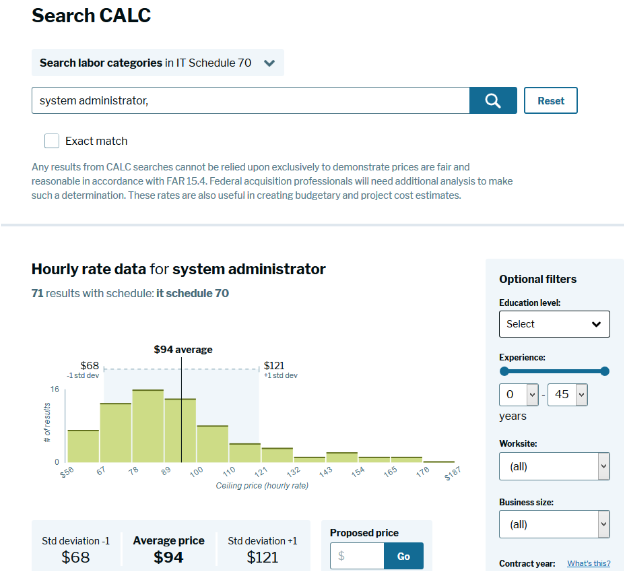 You сan search across all contracting vehicles or select some specific Schedule, apply filters, and export data into convenient formats. Great tool.
Using DSBS (Dynamic Small Business Search)
Dynamic Small Business Search tool offered by SBA.gov is a way to find small business and local competition on the same market as yours. Typically, procurement officers will query this database to find small businesses for set-aside contracts. However, you can use this tool too to find opportunities for yourself:
Identify small businesses for cooperation and subcontracting
Gather leads
Research local competitors thanks to geo- and socio-economic filters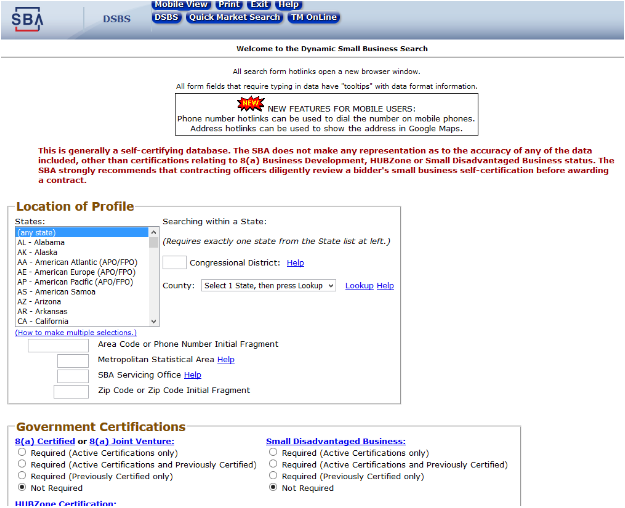 USASpending.gov
Each federal contract ever signed can be found in the USASpending.gov database. Using the search tool is rather simple, but the possibilities are wide.
In the search menu, select either keyword search or advanced search. Then, specify your search criteria:
Keywords
Fiscal years
Award Type
Agency
Location
NAICS code
Set-aside type
…and so on
The tool will display all contracts matching the search criteria:
How to use this information? You can find what agencies your competitors target and concentrate your efforts on those agencies too. You can monitor geography data and see states and regions where competition is low and demand is high. You can analyze trends in governmental procurement over years to reveal potential opportunities.
Price Reporter GSA Pricing Tool
Price Reporter has developed its own GSA pricing tool to help you monitor competition and compare prices under a specific Schedule. Check the tool here.
Conclusion
As you can see, there are a lot of tools to help you out with GSA contract search. Even though they are free, they still require you to invest time into GSA contract market research. Sometimes you may prefer delegating the competition and market research to professionals to save time for your actual business. In this case, Price Reporter is here to give a hand.