How will the consolidation of Schedules affect existing contractors and organizations that are currently in the process of pursuing a Schedule?
It's business as usual for both existing vendors and organizations currently in the process of pursuing a Schedule. Businesses with existing contracts are able to process modifications, accept orders and are still required to maintain compliance with the current terms and conditions of their contracts. Existing solicitations are still open to new offerors, and will be until the new Schedule is released (October 1, 2019).
Which 24 Schedules are included in the consolidation?
The 24 Schedules being consolidated are the GSA managed Schedules. The full list is below. VA Schedules will not be consolidated at this time.
738 X Human Capital Management and Administrative Support Services
76 Publication Media
67 Cameras, Photographic Printers and Related Supplies and Services
75 Office Products/Supplies and Services and New Products/Technology
81 I B Packing and Packaging Supplies and Services
71 II K Comprehensive Furniture Management Services (CFMS)
78 Sports, Promotional, Outdoor, Recreation Trophies and Signs (SPORTS)
58 I Professional Audio/Video, Telemetry/Tracking, Recording, Reproducing, and Signal Data Solutions
36 Office, Imaging and Document Solution
71 Furniture
72 Furnishings and Floor Coverings
03FAC Facilities Maintenance and Management
51 V Hardware Superstore
66 Scientific Equipment and Services
56 Building and Building Materials / Industrial Services and Supplies
84 Total Solutions for Law Enforcement, Security, Facilities Management, Fire, Rescue, Clothing, Marine Craft and Emergency/Disaster Response
73 Food Service, Hospitality, Cleaning, Equipment and Supplies, Chemicals and Services
736 Temporary Administrative and Professional Staffing Services
48 Transportation, Delivery and Relocation Solutions
70 General Purpose Commercial Information Technology Equipment, Software and Service
00CORP The Professional Services Schedule
23 V Automotive Superstore
751 Leasing of Automobiles and Light Trucks
599 Travel Services Solutions
What is the strategy for consolidation?
The consolidation will occur in 3 phases through fiscal year (FY) 2020. This graphic details each phase: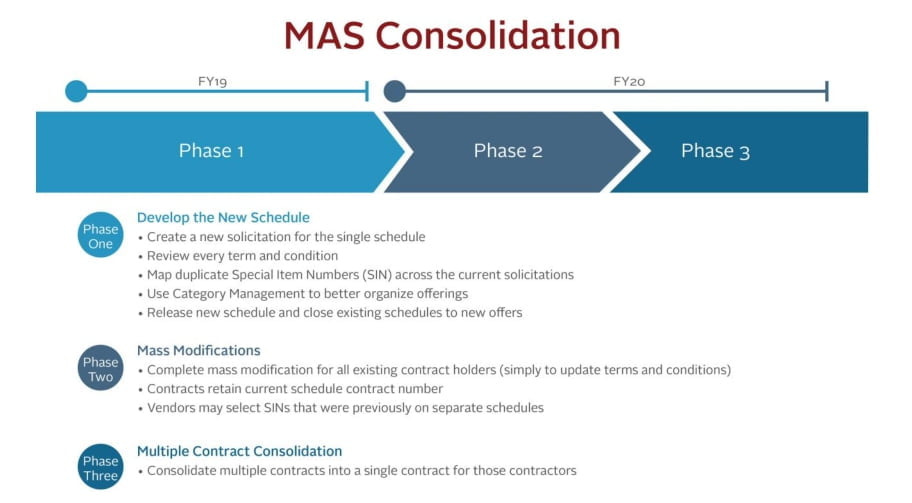 What are the major components of consolidating the Schedules?
Streamlining our terms and conditions is a major component of Schedules consolidation. Our goal is to do more than just remove duplication – we aim to refine and standardize terms and conditions so they are current, accurate, complete and consistent for all contractors. Common terms and conditions, like those for delivery, price reductions and trade agreements, will remain in the consolidated Schedule. Once GSA's review is complete, we will make the new, proposed terms and conditions, available for public comment.
Consolidation also offers us the chance to update and re-organize our solicitations, making them easier to read and understand. We can address category specific terms and conditions at the category level (SIN). This will also allow the contractor to offer additional categories of products and services that are currently on different Schedules, without the need to hold 2 or 3 different Schedules, and allow industry to provide a more comprehensive and solution oriented offering.
How will the consolidation of Schedules impact my current contract? Will my contract number change?
GSA is thoroughly reviewing MAS terms and conditions to eliminate clause duplication to only keep the provisions and clauses that are required by the Federal Acquisition Regulation (FAR), the General Services Administration Regulation (GSAR) and are necessary for a Schedule contract. At this time, there will be no revisions to the text of the GSAR or FAR clauses. This is simply a streamlining of applicable terms and conditions. Any future clause content changes will go through the formal rulemaking process.
In order for their contract to automatically transition, current Schedule contractors must accept the updated terms and conditions outlined in the mass modification when issued (estimated timeline early FY2020). When the Schedule is consolidated, current Schedule holders will maintain their current contract number. If you have multiple contracts we will work with you to determine the best solution for your company.