Price Reporter's GSA Contract portal offers you a bird's eye view of what projects are currently in the pipeline.
Please log in using the credentials provided by your Project Manager.
The start page is divided into three sections: list of all your projects, brief portion of intel for your contract & catalog management, and overview of QuickSales ERP that is intended to enhance your order fulfillment experience.
Section 1. Projects.
Here you can see the list of all projects that have been started or are planned for your company. The filter at the top allows you to select which projects are displayed based on their status. By default, it shows projects that are currently 'In process', but you can also select 'Completed' in project status filter to view your already completed projects.
This section contains basic information about your projects, such as the name, starting date, status, and notes created by your Project Manager. Here you can also see the names and contact details of your Project Manager and Sales Manager – hover the mouse pointer over the icon in the columns PM/SM to see the contact info.
To go to the project page, select a row and click 'Edit' or simply double click the desired row.


The next page shows all tasks related to the project you selected. You can see the task's name and status, file upload feature, and the column with Project Manager's notes.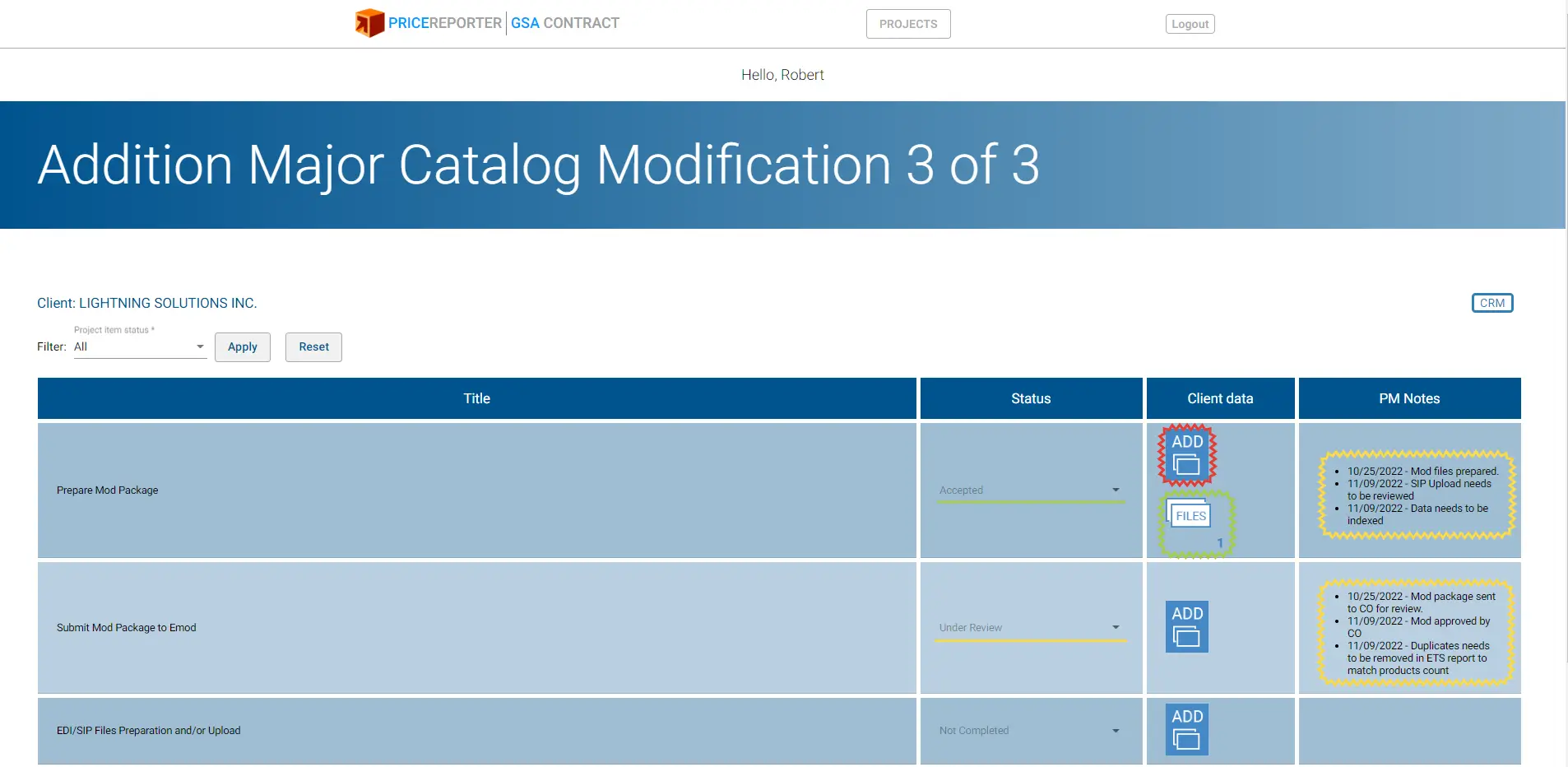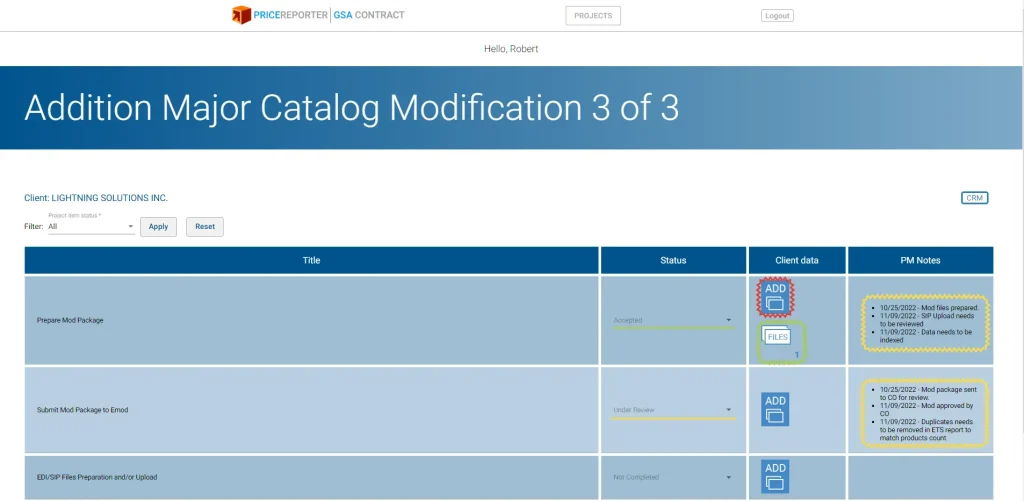 The column 'Title' shows the description of a task. The column 'Status' shows whether the project is accepted, rejected, under review, or not completed.
The column 'Client Data' allows you to add any file to the task. You can use it to upload vendor catalogs, invoices, letters of supply, or any other input file required for the given task. To upload a file, click 'Add', fill in the description field, and click 'Upload' to select a file on your computer.  Once the file is uploaded, your Project Manager will receive an email notification.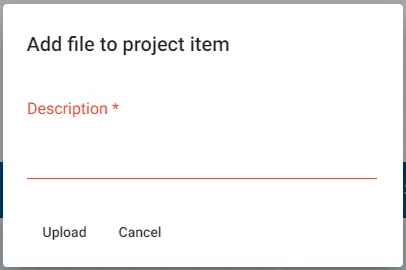 To see what has been uploaded, click the button 'Files'. The number next to the button shows how many files have been uploaded.
The column 'PM Notes' shows the comments that your Project Manager added to the task.
To go back to the list of projects, click the back button in your browser.
Section 2. Contract data.
This section gives you the idea of where you are with your current offerings and prices on GSA Advantage.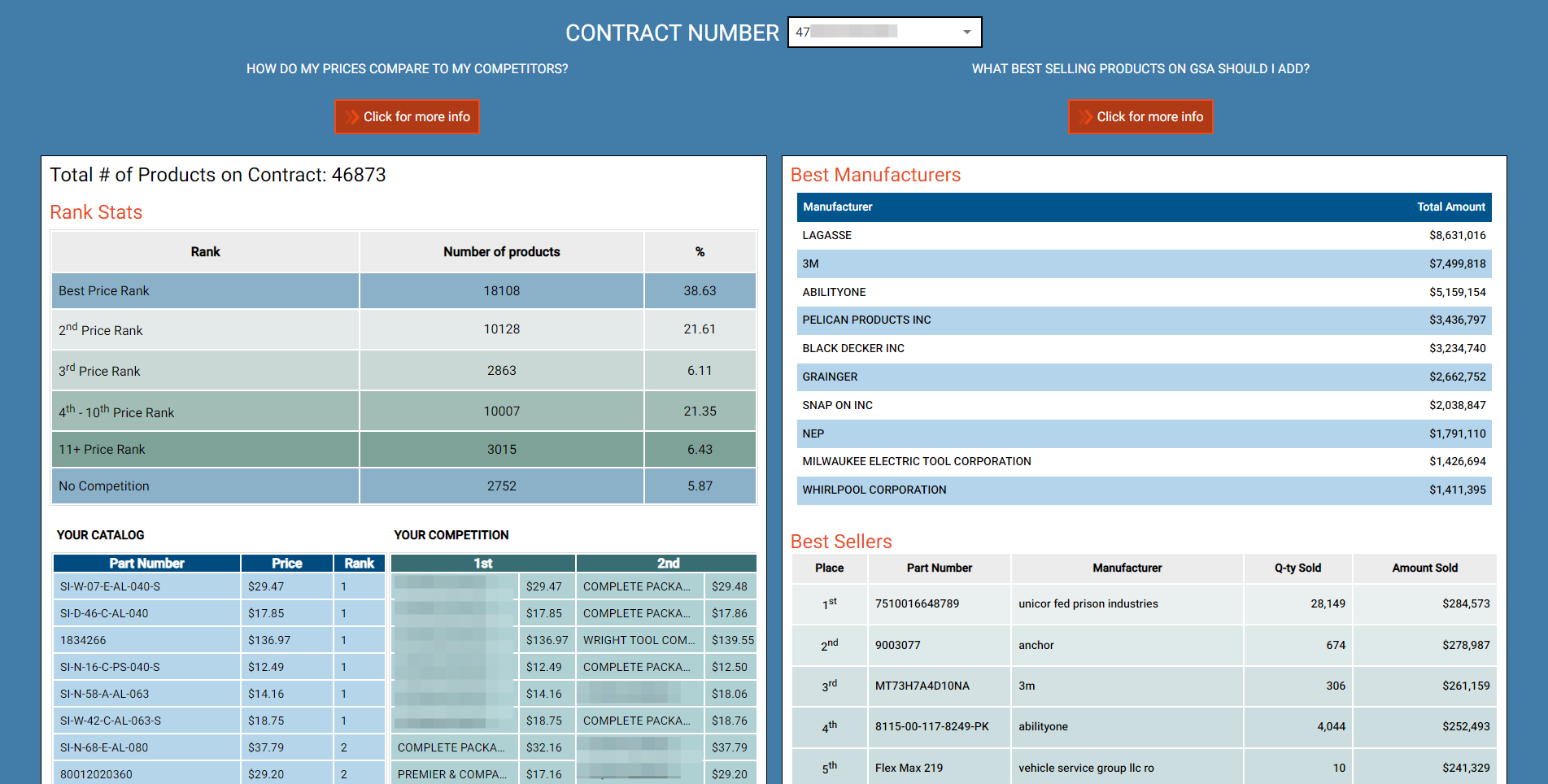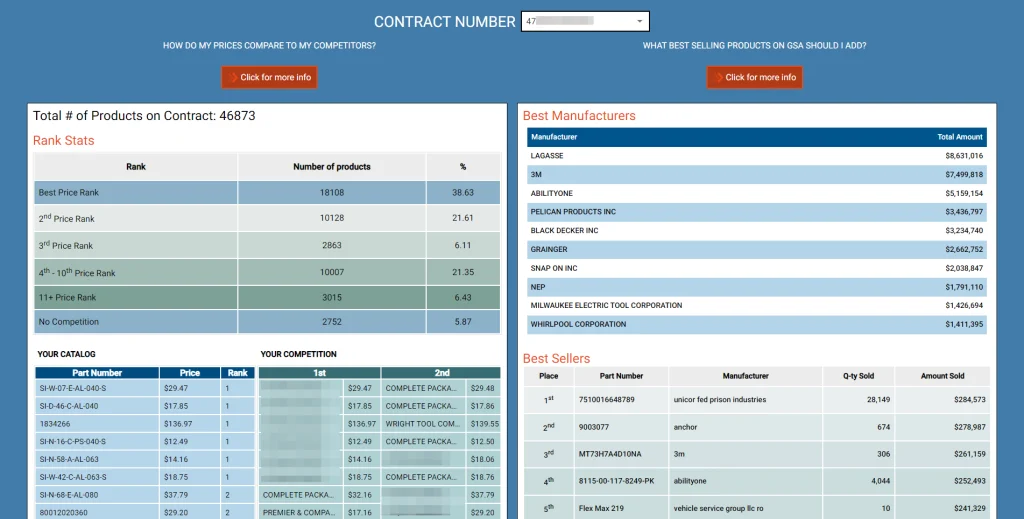 Rank Stats
Price Reporter analyzes your prices and compares them to the prices of your competitors. This table ranks all your currently awarded products compared to the prices of other contractors who offer the same products.
'Best price' means that you offer those items at the lowest price on GSA Advantage. 'No competition' means no competition was identified for those particular items.
Competition Report
The next table shows you a sample of what a competition report looks like. It shows a selection of items from your catalog and shows prices at which your competitors are offering those items
Best Manufacturers
It shows the list of manufacturers, whose items you currently have on contract and that are currently popular with end buyers on GSA Advantage.
'Total amount' reflects the total sales of items manufactured by a given manufacturer across all GSA Advantage contractors during the last consecutive 12 months
Best Sellers
It shows top 10 of your currently awarded best selling products over the period of the last twelve consecutive months.
Section 3. QuickSales OMS highlights
The last section gives you a quick overview of Price Reporter's Order Management System which makes order fulfillment easy and efficient through automation and integration. QuickSales OMS is integrated with a high number of major distributors and shipping companies and uses all available data to help you make right fulfillment decisions – and also provides GSA & end buyer with instant order-level and item-level status updates.