To start selling to the government, you first need to become an approved GSA vendor. A number of forms need to be filled out, before you can compete for a GSA Schedule Contract. So, what forms are required? Let's see.
Check if you Qualify to be a GSA Contractor
How to start working with GSA
The basic forms you need to complete to become a GSA vendor, place bid, and be awarded a GSA Schedule is shown below. To start, you need to properly register your business and notify the government you want to work with them, then submit the required documents.
D.U.N.S. number
The first form you will fill out is at Dun & Bradstreet. Registering there is required to receive the so called "DUNS number" – a unique identification code assigned to every business. Using this number, anyone including the government, can quickly check whether your company is exactly what it claims to be. Company name, address, phone etc. are thereby confirmed. Think of it as the company profile.
This form is easy enough: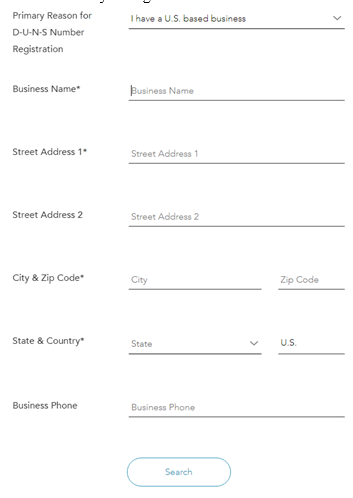 If you already have a D.U.N.S. number, Dun & Bradstreet system will automatically locate it for you.
Note that D.U.N.S. is free and is required to proceed with further registration process on GSA website.
Register at System for Award Management (SAM)
Once you have your D.U.N.S. number, and know your NAICS code (no forms to fill there), you can start registering with SAM. Although, you may need to get your Taxpayer Identification Number first if you haven't done this already.
To do this, visit the IRS website and apply for a EIN. Note that operation hours of IRS are Monday to Friday, 7 a.m. to 10 p.m. Eastern Standard Time.
Having your TIN prepared, you can register at SAM. The registration is free. The process typically takes 3 to 10 days.
Get your digital certificate
Today, all data exchange between GSA, vendors, and the government agencies is done electronically. To verify the validity of a document, digital certificates are used. This means that in order to become a GSA vendor you need to register a digital certificate.
There are a number of private companies qualified to issue digital certificates to businesses. You can find such digital certificate providers on the eOffer GSA website.
You will need to select a type of the certificate and its validity period. Then, you will need to type in your company's legal name and address. The company has to be properly registered, in order to obtain a digital certificate.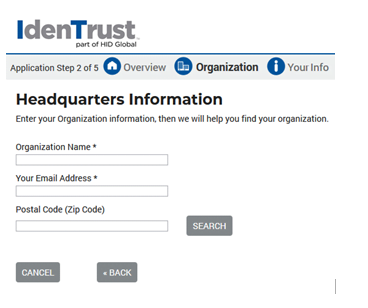 Note that you must update your digital certificate every two years. An expired certificate means you cannot do business with GSA.
Register with GSA
Now you can register with the General Services Administration. A number of forms will need to be filled out:
Agent authorization letter. If you hired a company to help you communicate with GSA and work with documents on your behalf, you should provide a letter authorizing this consultant to proceed.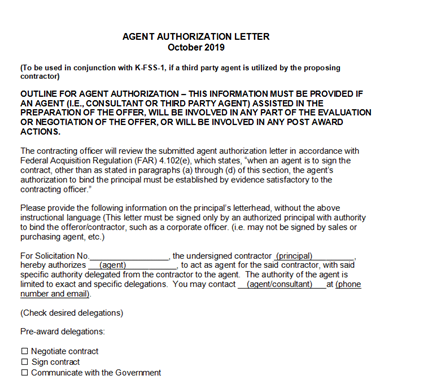 Letter of supply. If your company is a vendor, not a manufacturer, you need to provide a letter of supply to guarantee uninterrupted supply from manufacturer to government.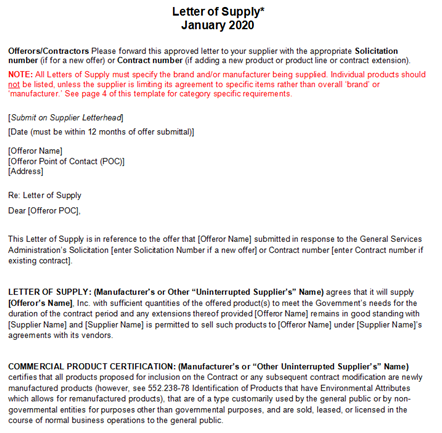 Price proposal. This form is mandatory for every vendor. This is your price proposal to the government; it tells how much your products cost. Fill out the template for products with discount and products with markup.

Technical proposal. This is a document where you explain your expertise in the given field, past experience, and categories that your products or services belong to.
These, however, are not all the forms you you will have to fill out. Depending on the SIN, category and types of products and services you offer you may need to fill out additional forms. Please make sure to go through the necessary GSA training that would explain every detail of this process.
Where to find the applicable GSA forms you need to fill out?
Visit the GSA Forms Library to quickly find form templates. There, you can search and locate forms, using specific keywords, or browse forms by category. Then, simply download any given form in PDF.