Have a look at your QuickSales home page dashboard – it now shows a specific alert for your government POs: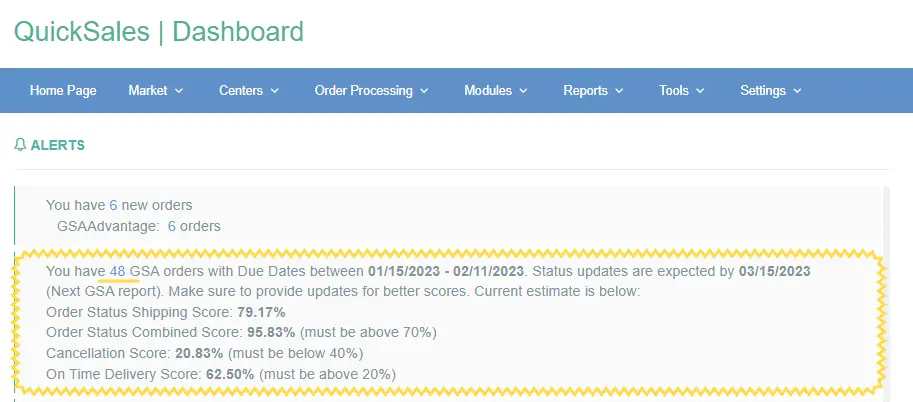 For order types where customer type is "government", system will calculate due dates for each order using Days ARO value that is configured for this order type (if any discrepancies – update to your actual Days ARO per contract).
System will show you the number of orders with due dates within Next GSA report date range – and current estimated scores for this set of orders.
Note that it's only system's estimate that is intended to help you monitor progress and adjust business practices – your actual scores will be calculated by GSA and you will receive results via email.
To make your Order Status Shipping Score higher
ship items in QS before next GSA report date and provide tracking numbers for each line.
To make your Order Status Combined Score higher
provide backorder ETA for items that are not shipped yet or consider enabling Auto-Backorder.
To make your Cancellation Score lower
cancel less orders or review your canceled orders and submit a delete mod for products that are often canceled.
To make your On Time Delivery Score higher
ship items in QS before order Due Date or submit a mod to increase your delivery time.
You can click at the number of orders in this alert and it will open a page with all these orders filtered for eased navigation. You can review order statuses, etc. – or further filter results by status to show you Open orders that still need your attention / further filter by order type, etc.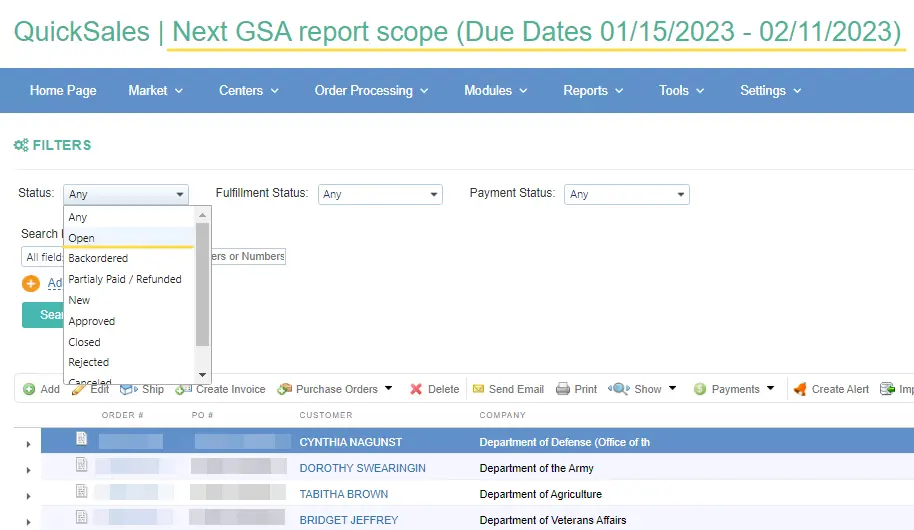 Dashboard alert with estimated scores and smart filter for eased navigation should give your enough visibility to remain compliant in terms of statuses provided to GSA.
And if you want to go into details, you can use Item Status report with smart date range "Next GSA report" to review all item statuses / export canceled orders to obtain a list of canceled products, etc.